Big open sky – that is what I think of when I think of Edmonton. Having never been to the Prairies before, I assumed my first reaction would have been in regards to how flat the land was, but no: my eyes were continuously attracted to the expanse above, no matter where I travelled during my adventures in and around the city. Perhaps it stood out to me because I live in a small, windowless, and enclosed attic. Or, maybe I've become too accustomed to the forests of skyscrapers in Toronto. Regardless of the reason, it felt great to be surrounded by the vastness.
Kelly (violin), Evan (guitar & percussion), and I flew out with the purpose of performing in An Evening of Wine and Words – an annual fundraising event held at The Fairmont Hotel MacDonald and put on by Richardson GMP in support of Edmonton's Centre for Family Literacy.
Though dwarfed by modern towers, when seeing the hotel from the outside (pictured above, left), it is not hard to imagine the grandeur it must have once had. Perched on the edge of the escarpment and overlooking the North Saskatchewan River, the old building feels like a beautiful fortress. Inside the Empire Ballroom (pictured below), with its massive and bejeweled chandeliers, the imagination runs even more wild: what kind of parties used to be thrown here? What music would have been playing on those nights? Were those people in awe of the beauty of this space as much as I am today?
We were successful in our purpose, raising $700 for the Centre after performing a couple of tunes and auctioning off a house concert (which will have us returning to Edmonton to play later in the year).
Equally exciting, this opportunity had us sharing a stage with Corb Lund (below, left), Wayne Petti of Cuff the Duke, and Canadian country rock icon Jim Cuddy of Blue Rodeo (Jim and Wayne are pictured below, right). Growing up, I remember my father keeping only three albums in his car: Sting's Fields of Gold (a "best of" compilation), The Cowboy Junkies' Black Eyed Man, and Blue Rodeo's Five Days in July. Needless to say, it was quite an awesome experience to meet the man behind the voice that coloured so many of my childhood road trips, let alone to perform on the same stage as him (that's us, pictured below in the middle). Wayne Petti was also a delight; full of catchy sing-a-long tunes, humorous stories, and a friendly demeanour. I look forward to hearing his full band when they come back from touring in Europe this summer.
The show was an obvious success, raising over $100,000 (from what I've been told) for the Centre for Family Literacy. Considering the tickets were sold out before they even went on sale, this isn't totally surprising.
Luckily, I was able to book a second performance while we were in Edmonton and had a wonderful weekend of reunions and reminiscings with family and friends (new and old) after opening for the invariably kind (and talented) Cam Penner at The Blue Chair Cafe.
And no trip to Edmonton would be complete without a bison seeking excursion, right? After much time exploring Elk Island National Park (which cost $20), finding many traces of bison (but no actual bison), and then (like a joke) spotting a whole herd of them chilling smugly 100 meters down the highway after we left the park (unfortunately, we were travelling on the wrong side of the divide to stop and too quickly to take a picture), we ended our adventure with punch line laughter and I leave you with …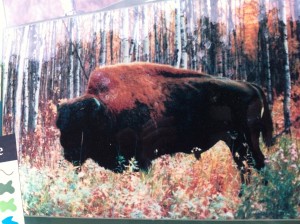 a picture of a picture of a bison.
Want to Connect?
Pssst… you'll get free downloads & show updates in my monthly "Poems in Pieces" newsletter ;)